I stumbled upon a phenomenon last week that I wasn't prepared for.  I thought I had seen the pinnacle of arcade excitement back in the 80's but was floored when I found out otherwise.
The Killer Queen Arcade Tournament
On 8/13/2016 my friends and I traveled to Logan Arcade in Chicago to play some games for the day. We arrived early since we had almost an hour and a half drive back home.  We were expecting a minimal crowd as we walked in.  Megadeth's Rust in Peace Polaris was playing on the sound system and there was electricity in the air.  We turned the corner and looked into the main pinball room and saw hundreds of people losing their $h!t playing in the back corner. Well, actually, only a small handful were playing and the rest were watching.  What was going on?! Killer Queen arcade was what was going on.

What is Killer Queen?!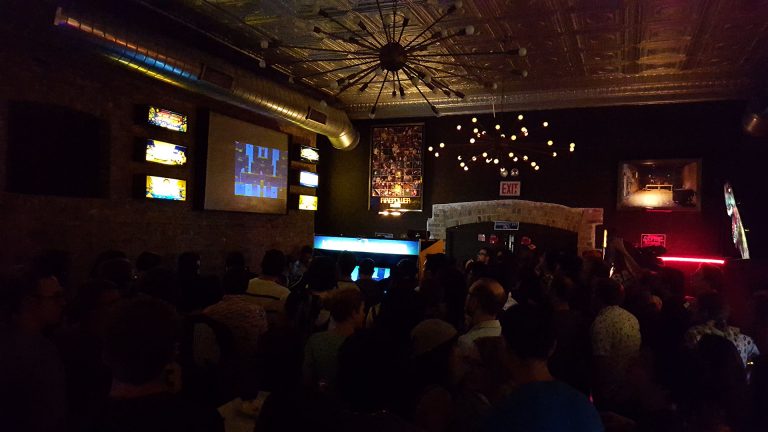 Killer Queen is more than just a new arcade game, it is a phenomenon.  Never in the years that I have been arcade surfing have I EVER saw such excitement.  It was more like experiencing a championship football game on a smaller scale.  According to their website, Killer Queen is "The world's only 10-player arcade strategy game." Killer.  The event we experience supposedly had players from 10 different States and certainly encompassed numerous strategies.  The game itself has three ways that each side can win.  My apologies ahead of time for those that understand it better but these are the ways I gathered that you could win:
Kill the enemy Queen 3 times
Fill your "hive" with purple balls
Walk the snail slowly across the screen to your goal net.
Once the tournament was over, I had to sneak in and figure all of this out.  The first few games I got crushed, there was too much going on.  After getting the hang of it, it felt like Joust but much more cerebral. When I started communicating with my teammates we actually started winning.  Playing the Queen has a lot of responsibility associated with it.  If you have an ineffective Queen you are almost guaranteed to lose.  I found that I liked playing one of the 4 other drones. I started trying the snail trick but the opposing Queen was too smart for that.  However, once I started to get in a rhythm with collecting the purple balls and we were communicating, we won almost every time! An absolute blast either way!
Killer Queen T-Shirts
So how does Killer Queen arcade relate to T-Shirts?  Well, not totally directly, but in Chicago and all around the World, social arcade gaming is gaining intensity and is become more a part of Pop Culture.
If you want to show excitement about something and want it less permanent than a tattoo, most people go for a graphic T-Shirt.  A cool Killer Queen arcade shirt can open up a discussion with a stranger and lead to more excitement for that game and other social arcade gaming.  It's all around us now, people LOVE it, so embrace it on your chest 🙂
Edit: 10/18/16
Our Killer Queen Arcade T-Shirt Pick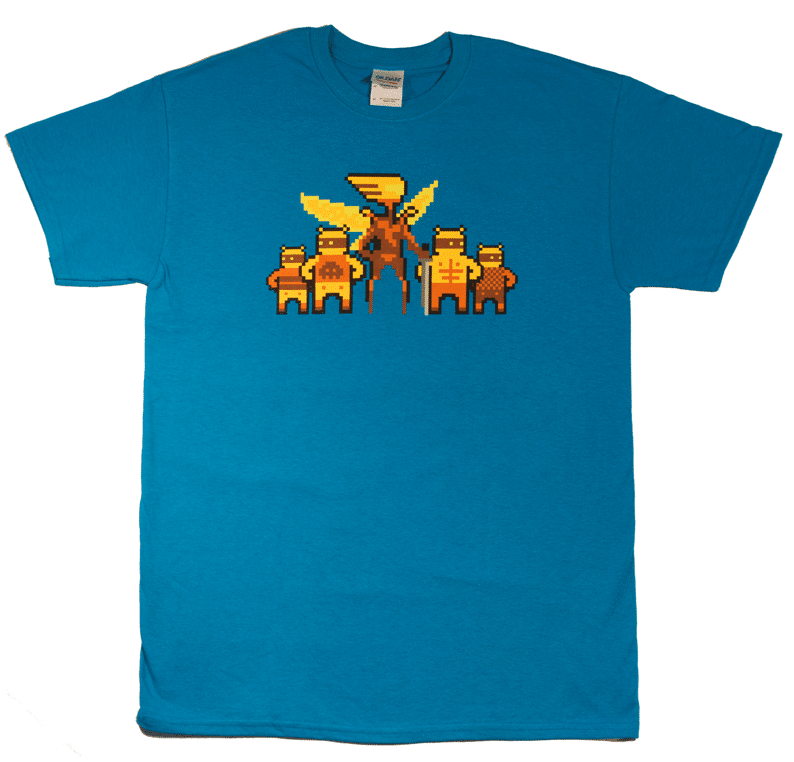 The more we pay attention to the current arcade culture and Killer Queen in particular, the more passion and excitement we see.  We received an interesting email yesterday from General Manager of BumbleBear Games.  We had linked to an Amazon Killer Queen T-Shirt that we thought was legitimate but it wasn't.  After communicating via email we have that rectified and now have a link to the official Killer Queen Arcade T-Shirts.
Where are we going with this? Why are we talking about this?  There is a point here that we are very passionate about: the protection of  copyright and intellectual property.  All too often we see pirated T-Shirt designs that are blatant frauds. We've had images of our own copied off of websites and put on other products.  This just isn't cool.
As we support this evolving industry be sure to support official and original merchandise.  We will do our part to try and make sure we link to legitimate sources.  If you see something we posted that is in question, please contact us here. Likewise, if you see something someplace on the internet that isn't legitimate, speak up, it's the right thing to do. Together we can make the internet a more awesome place!
Want a Killer Queen Tee?
Click here for the official Killer Queen (BumbleBear games) Shop.
Join the Arcade Discussion!