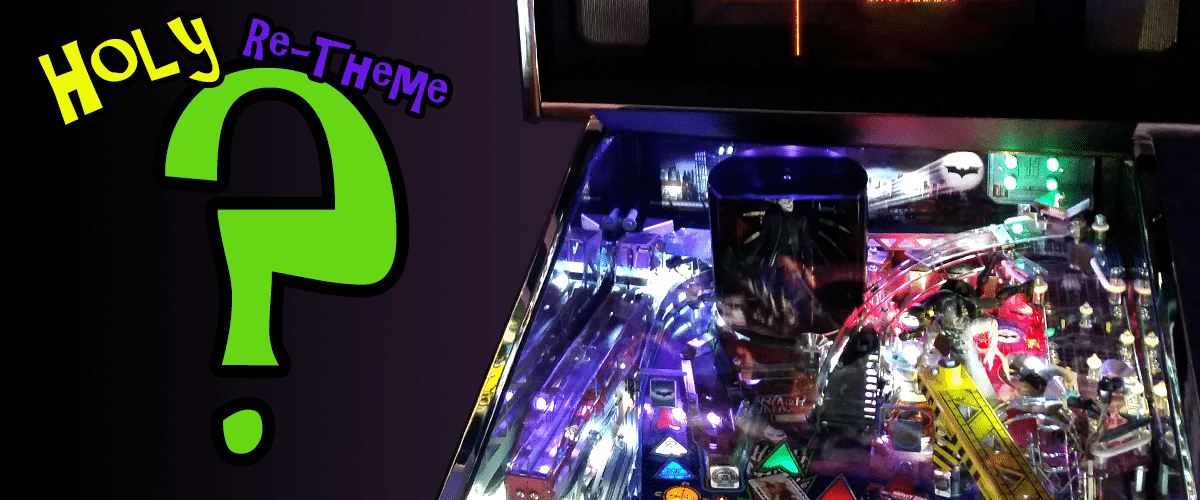 There's been plenty of rumors floating around.  Then the Stern Epic 30th Anniversary party was announced with Adam West as a guest. Shortly after, a friend of mine spotted an article on the the new Batman: Return of the Caped Crusaders cartoon movie. That was about all we needed for proof of what was to come.
Holy Re-Theme, It's Semi-Official!
Today, it was all over Facebook and social media although not on Stern's official pages. A flyer of the upcoming re-theme of the Stern Batman pinball machine. We've played the original many times and have enjoyed it thoroughly and are really looking forward to what this new theme has to offer!
Here are the Batman 66 features from the flyer:
All-Star development team consists of George Gomez and Lyman Sheats in collaboration with Joe Kaminkow and contributions from Eugene Jarvis and others!
All-new game design, retaining the popular crane toy from 2008 Gomez and Sheats' Batman The Dark Knight
New interactive toys!
2 LCD displays – one LCD replacing the dot matrix in the backbox, and an additional interactive LCD on the playfield!
Voice-over by Adam West, Batman in the original TV series!
Iconic art package!
And much more!
Other noted features include:
Jointly branded by Stern Pinball and Joe Kaminkow's Ka-Pow Pinball
240 limited edition machines, dressed even more so than normal limited edition game
There will be a premium – There will be no pro
Customers who order with deposit gain VIP access to Adam West meet and greet at Westin Hotel during Chicago Pinball Expo
LE deposit $2,000 – Premium deposit $500
30 Super LE machines will be made, purchase by invitation only
First shipments planned for November 2016
Batman 66 T-Shirts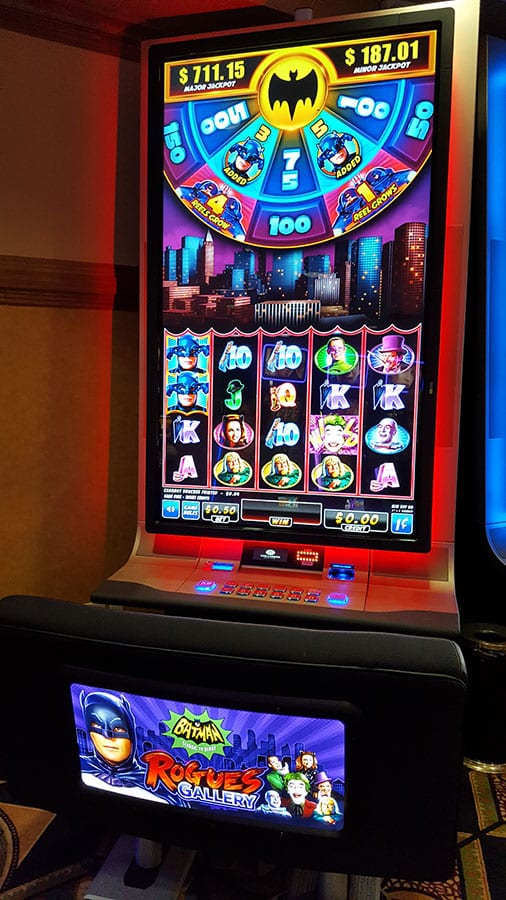 So how does all of this Batman 66 pinball business relate to T-Shirts?  Well, not totally directly, but the modern day culture of loving the the 66 classic TV series has a way of making it's way into other pop culture events.  There has been many hints of interest in the last few years.  Things always come back around.  If you haven't seen something in a decade or two, it's like seeing it new or, at least, stirring up good old memories. The first signs of this coming were when the Batman 66 TV series were being released on DVD a few years ago.  This was followed up with other merchandise and, within the last year, the Batman 66 slot machine. Check out the picture we took in a casino in Deadwood, SD in May 2016.
If you want something less permanent than a tattoo, most people go for a graphic T-Shirt.  No doubt there has been a lot of classic gaming T-Shirts out there, that's why we do what we do.  A cool classic gaming shirt can open up a discussion with a stranger that you never imagined would happen.  It's all around us, people love it, embrace it 🙂
Here is our pic to fit with the Batman 66 Pinball motif of the post:
Removed. No longer available.