A 007 License to Thrill!
James Bond 007 Pinball Review – An ArcadeTees Opinion
Stern's James Bond 007 pinball machine catapults players into the world of espionage, combining the cultural impact of Sean Connery's Dr. No with thrilling action sequences, iconic music, and gadgets from legendary films. Immersed in 007's universe, players tackle assignments, battle SPECTRE, and experience the allure of Bond's adventures with captivating gameplay, making it a must-have for both Bond enthusiasts and pinball lovers.
I. A True James Bond Arcade Experience
The James Bond pinball machine, officially named James Bond 007 pinball, brings the captivating world of 007 to the realm of pinball. Designed by George Gomez, this offering from Stern Pinball combines the sophistication of Bond with the excitement of fast-paced gameplay.
II. A Theme That Shakes (Not Stirs) the Senses
One of the standout features of this machine is its strong theme. Bond fans will appreciate the immersive experience as they embark on secret missions and encounter familiar characters and gadgets from the iconic franchise. The inclusion of Bond's signature theme music adds to the overall ambiance, although some players may find it repetitive over time.
III. Unraveling the Gameplay: A License to Thrill
At its core, the James Bond pinball machine delivers a fast and exhilarating gameplay experience. The shots and flow of the game are often praised, offering players a sense of satisfaction when nailing challenging shots. The playfield layout, designed by Gomez, strikes a balance between familiarity and innovation, with unique elements that make it stand out from other machines in the Stern lineup.
IV. The Code: A Work in Progress
While the current code shows promise, it is important to note that the code is still in its early stages. Some players have expressed their disappointment with the current state of the code, noting its incompleteness and lack of depth. However, there is optimism that future code updates will enhance the overall gameplay experience, providing more engaging modes and features.
V. Mixed Reviews on Toys and Artwork
Opinions on the toys and artwork of the James Bond pinball machine are divided. The rocket toy, a central feature on the playfield, has received mixed feedback, with some players finding it underwhelming and others enjoying its presence. Similarly, the artwork has garnered differing opinions, with some finding it appealing and fitting for the Bond theme, while others criticize certain design choices and aesthetics.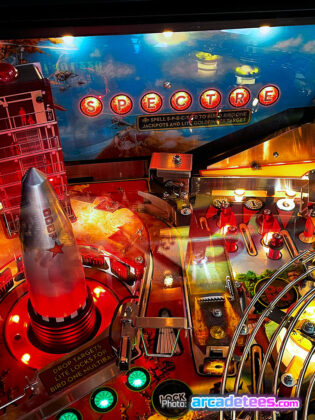 VI. Building Bonds: The Verdict
The James Bond pinball machine has evoked varied responses from the pinball community. While some have expressed their enthusiasm for the theme and gameplay potential, others have raised concerns about specific aspects like Bird 1, the side ramps and the ball lingering in the pops. The game's build quality has been a point of contention for some, with comparisons drawn to other Stern machines. For me it even brought up feeling of old Sega games like X-Files. Yes, X-Files, sorry. However, we feel that it comes down to personal preference. Being a big Bond fan, I really want to love this game.  I've got a good 20+ plays on it and I can honestly say I've gotten into it at times and other times I've been apathetic. Most people I've spoken with would rather play Jurassic Park or are looking forward to Stern's new title, Venom.
VII. Looking Ahead: The Future of Bond Pinball
The James Bond pinball machine is an exciting new addition to the world of pinball! Like any freshly launched game, it's a work in progress. Stern has a reputation for updating and refining gameplay through ongoing code updates, ensuring an ever-evolving experience for players. While it's thrilling to see potential for future improvements, some may question the decision to release a partially complete game. First impressions are powerful, after all. Nevertheless, we must appreciate the complexities involved in producing such a masterpiece with a beloved IP like James Bond. With patience and understanding, we can look forward to seeing this diamond shine forever in the pinball community. We are learning to embrace the journey, enjoying the positives while being open to growth and improvement.
Conclusion:
The James Bond pinball machine combines the allure of James Bond with the excitement of pinball gameplay. While it has received mixed reviews, there is a consensus that the game holds promise, particularly with the expectation of future code updates. As the journey of this pinball machine continues, it is likely to evolve into a thrilling and engaging experience that will captivate both Bond enthusiasts and pinball lovers for years to come. With its strong theme, bold artwork, and the potential for continuous improvement, the James Bond pinball machine stands as a testament to the enduring charm of both Bond and pinball. To quote Sean Connery, "Love may not make the world go round, but I must admit that it makes the ride worthwhile."
Video of Game Features
James Bond 007 "Dr. No" Pinball Strategy and Game Rules
Objective: In "007" pinball, your mission is to complete various challenging missions inspired by Bond villains and henchmen, light up SPECTRE weapons, and achieve thrilling multiball modes for high scores.
Skill Shots: At the start of each ball, you have the opportunity to make one of eight skill shots by holding up the left flipper and plunging at full strength. Each skill shot awards different points and requires precise timing and accuracy.
Villain Modes: To initiate Villain Modes, you need to shoot the right ramp three times. Each Villain Mode is time-limited and can be changed by hitting pop bumpers or the Goldfinger target. Villain Modes present unique challenges inspired by iconic Bond villains and offer scoring opportunities.
Henchmen Modes: To start Henchmen Modes, shoot the side ramp. Subsequent Henchmen Modes require more shots to the side ramp. Henchmen Modes are also timed and provide their own exciting gameplay elements and scoring possibilities.
SPECTRE: Spelling "SPECTRE" by hitting targets behind the rocket activates this mode. It increases Bird 1 Multiball jackpots and initiates a hurry-up challenge with the SPECTRE weapon.
Bird 1 Multiball: Lock three balls by hitting the green drop targets and the center loop. Bird 1 Multiball is a fast-paced and thrilling multiball experience, offering various scoring opportunities.
Jetpack Multiball: Light up the left ramp by hitting the left eject. Then, shoot the center loop and achieve five shots for a jackpot. Shoot the left ramp again for a super jackpot. Jetpack Multiball provides a thrilling shooting frenzy.
Q Branch: Qualify for Q Branch modes by making specific shots multiple times. Q Branch modes offer unique gadgets and 2-ball multiball experiences with their own scoring potential.
SPECTRE Weapons: Completing SPECTRE targets adds points to Bird One Multiball jackpots and activates countdown modes for SPECTRE weapons. Choose the desired weapon at the Goldfinger target and start its countdown.
Bond Women & 007 Scoring: Collect Bond Women by shooting the upper loop's flashing inserts. Each collected Bond Woman contributes to a timed 007 Scoring period with playfield and bonus multipliers.
Combos: Scoring quick successive shots in combos earns additional combo points, providing an extra layer of strategy for higher scores.
Outlane Ball Save: Hitting the Dragon Tank target lights ball save in one of the outlanes, giving you a chance to save the ball from draining.
Extra Balls: Earn extra balls through specific achievements and objectives to extend your gameplay.
End-of-Ball Bonus: At the end of each ball, you receive bonus points for completing missions and achieving specific goals during the game.
Wizard Modes: There are several mini-wizard modes, including the "Bond… James Bond" Multiball. To qualify for these modes, complete specific sets of missions and objectives. Each wizard mode provides a challenging and rewarding experience with massive scoring potential.
By mastering these rules and utilizing strategic shots and timing, you can become the ultimate secret agent, achieving high scores and uncovering all the secrets "007" pinball has to offer. Good luck on your mission!
James Bond Pinball Machine Latest Code
V0.94.0 (July 6, 2023) Update
The update to version 0.94.0 of the game includes several new features and improvements. The major addition is the "Chaos at Crab Key" Wizard mode, which becomes available after completing certain modes. This mode involves a 3-ball multiball with various jackpot shots, and players can earn an extra ball by collecting all eight jackpots. The update also introduces topper light shows, new sound effects, and improved display awards for certain game modes. Additionally, various bug fixes and behind-the-scenes improvements have been implemented for better performance and accuracy. Verified location indicators have been added to attract mode coin and login screens.
James Bond 007 Pinball  Machine Features and Specs
Game features up to 4 players, with 3 flippers and a 6 ball multiball.
Machine Manufacturer:
Stern Pinball, Inc. – click here for website.
James Bond pinball release date
September, 2022
Machine Models
James Bond 007 pinball pro
James Bond 007 pinball Premium
James Bond 007 pinball Limited Edition – 1,000 units made.
James Bond 60th Anniversary Limited Edition – 500 units made.
FAQs
Q: Who made James Bond pinball?
A: Stern Pinball, Inc. located in Chicago, Il.
Q: Does any company still make pinball machines?
A: Yes, there are many companies that make pinball machines as of 2023 including: Stern, Jersey Jack, Spooky Pinball, American Pinball and Chicago Gaming.
Q: Does this game come with the James Bond Art Blades?
A: No, the art blades for this and other stern games don't come with art blades unless you purchase the Limited Edition model.
Insider Connected Achievements
James Bond 007 pinball machines feature Stern's Insider Connected™ system, allowing players to interact globally and track their scores and in game achievements.
There are 113 achievements available in this game. Here are the categories:
Skill Shots
Dr. No
From Russia With Love
Goldfinger
Thunderball
You Only Live Twice
Diamonds Are Forever
Bird 1 Multiball
Jetpack Multiball
Multipliers
Spectre Weapons
Henchmen
Q Branch Gadgets
Dragon Tank
007
Combos
Attache Case
Bath-O-Sub
Hunted By Helicopter
Deadly Dagger
Death By Derby
DB5
Swimming With Sharks
Outer Space Hijack
You can register for this service at https://insider.sternpinball.com/ .
Other Pinball Reviews
Like this review?! Check out our other pinball and arcade game reviews here or check out our last review for Godzilla pinball here.
Join the Arcade Discussion!